Fender Princeton Reverb II

An
unoffical
website devoted entirely to one model of amp only, the Fender Princeton Reverb II, a guitar amplifier produced by Fender 1982-86.
If it ain't got the "II", this page ain't for you.
REMOVECAPITALLETTERSstratopastor@hotmail.com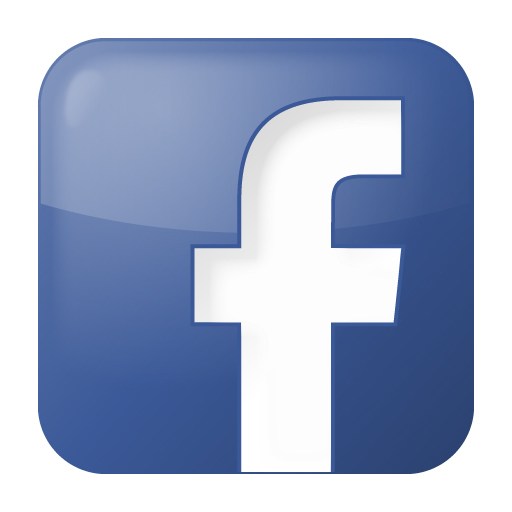 Facebook discussion group "Princeton Reverb II"
FREQUENTLY ASKED QUESTIONS
TROUBLESHOOTING
FOOTSWITCH INFO (inc possible solution to the clean sound tone suck problem)
MODIFICATIONS (new reliability mod May 2022)
REBIASING
SPEAKER OPTIONS
DISMANTLING
SCHEMATIC, wiring diagram, now with signal path shown
INTERIOR PHOTOS for reference
CAP JOB- important maintenance


VALVES/TUBES - what they do, alternative options
OWNER'S MANUAL
PICTURE GALLERY


MAGAZINE REVIEWS, 1984 price lists and other stuff
WEBCAM - see what's happening inside my amp

right now

!
LINKS
PRIIs For Sale - occasional private ads

SCHEMATICS, LAYOUTS, PARTS LISTS - OTHER AMPS IN FENDER RIVERA-ERA RANGE

Survey - please help?

(June 2022 - still collecting data! Sometimes people email me asking if I'm still doing this; yes, gimme what you got. Thanks....)

If you've got a PRII or any other amp
or speaker cabinet
from the "Fender Rivera* era" (1982-86), please email me at the address above (manually delete the capital letters from the address) and tell me the serial number of your amp. In return I will tell you when your amp was made. If you can give me any speaker or transformer date codes, even better, but the serial number is enough. (The Fender Blue Label speaker, by the way, is always
Fender part number
019465 - the
date code
begins either 109 or 67; and the transformer date codes all begin 606 -thanks.)
It is a myth that all serial numbers starting "F2"=1982, F3=1983 etc. From the data I've collected, it's clear that Fender tried to use that system but abandoned it within a year. Using my database of over 2000 Rivera-era serial numbers, I can 'date' an amp fairly accurately. I also know roughly how many they made for each of the 14 amp types in the range. Here's the results of
my research so far
- but I would still appreciate it if you could email me your amp's serial number.
...and if you're
selling a PRII
or other Rivera-era amp online, like on eBay or Craigslist, and you link to this site to help your sale, how about dropping me a line and letting me know the serial number as a return favour?
* that's Rivera. Not Paul Revere, Paul Riviera, or even Jake Riviera. At least two of those are real people, but not the man in question.
Introduction
The Fender Princeton Reverb 2 (wrongly named here on purpose to help people searching for "2" as well as "II") is a 22W single-channel tube/valve guitar amplifier combo designed by Ed Jahns under the supervision of Paul Rivera (see the
magazine
article...) and produced by Fender between 1982 and 1986. There didn't seem to be much on the web concerning this amp, so I thought I'd devote my extremely limited html skills to sharing what I've found out so far. I estimate there were around 6200 built, so this website will naturally be totally absorbing to the owners of about 6200 amps. Minus the ones not using the internet. Minus the amps not working any more. Minus the ones who are too busy playing to become amp geeks. That leaves... er... you and ... er... me. Funny how this page gets 30-40 hits per day... they must be looking for something else....
There are many different models of Fender Princeton
and if the above photo doesn't look like your amp, you've come to the wrong place, unless you came for Rivera-era Fender
footswitch
info or
schematics for other Rivera-era
(II series) amps. There's nothing here for any other model of Princeton. Nothing. Niente. Nada. Nichts. Rien. Gornischt. Zip-diddly-doo-dah.
The rear of the PRII (UK 220V model) looks like this with the upper rear panel removed: (sorry about the dust on the speaker; it's all the dog's fault). My PRII has the reverb unit in the bottom of the cabinet - others have it mounted vertically on a side panel, but they should
consider moving it to the base
... it will sound better. There were 2 other standard issue speakers - see the
speaker page.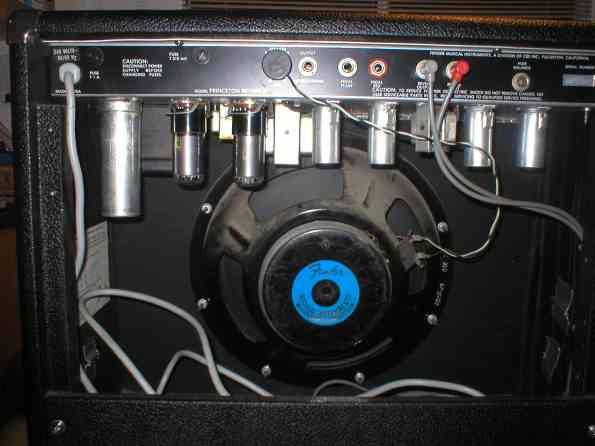 If you

spend longer today looking at this site than you do practising the guitar, please rethink your life priorites. This has been a public service announcement. Thank you.

Additions, comments and corrections welcome! If you can see anything wrong here, if you'd like to add something, if you'd like to suggest a link, or if you've produced a relevant page and would like me to link it, then please email me at (remove the capital letters) SPAMDEFEATstratopastor@hotmail.com


Pages in this site;


Frequently Asked Questions (OK, I was asked these... once or twice... some time ago...)


Troubleshooting Basic checks and fixes you can do without going inside


Schematic/Circuit diagram for this amp as a .gif file on the screen, or a download link for a wonderful .pdf file of the schematic, parts list and wiring diagram - big thanks to Mark Carson


Nice clear .pdf images (requires Acrobat Reader) of the schematics of the entire Rivera-era Fender range - big thanks to Mark Carson and others.


Rebiasing the output valves/tubes


Cap Job: once-every-25-ish-years maintenance job, replacing all the electrolytic capacitors


Description of each valve's (tube's) role

The Footswitch; what, what not, where, why, maybe why not, how to build one, where to buy one, and how much

Modifications you could do. One of these mods deals with the single most common failure mode. Credit for that belongs to John Philips, Edinburgh(UK)-based amp tech - on the Fender Discussion Page he was "Unquiet". On the subject of mods, if you've found something you'd like to share, email me.


Reviews from Guitar Shop Magazine, Jan 1998, looking back at this range of amps. Thank you, Bob F, for sending me this. Includes a tribute to designer Ed Jahns and a photo of his signature on the factory prototype PRII on 2/2/82. You lucky people. Also on this page; Review of the PRII in UK magazine Guitarist from September 1984; big thanks to Gordon Trunkfield for sending this in, and (new June 2022) Fender's price list for 1984.


Owner's Manual (about 2Mb) ... this amp is so simple and intuitive to use, the manual's almost a waste of paper. I doubt it's going to tell you anything new. But hey, I was curious to see it, and former PRII-owner Curtis was kind enough to get it scanned in, so here you are.

Speaker Options Some folks rave about the results when they fit an alternative speaker. Can you add to this page for me? Includes write-up of the Jay Mitchell speaker directivity modifier for the PRII


Picture Gallery .... a work in progress. SEE a new-in-box PRII for sale in April 05! SEE a wood-finish PRII, one of a limited edition from the factory!


Links I've found helpful; Tech and Vendors


J.White Guitar Workshops are a UK guitar tech (near Aldershot, Surrey). Joe White did a wonderful refret on my Strat.

Since moving to the NE of England I've found Nigel's Guitar Workshop in Richmond, N.Yorkshire. He's done a brilliantly-blended-in partial refret on one of my acoustics. (July 2014)

South Valley Vintage Amps

in Gilroy, California, USA. He does parts (speakers etc) as well as amp servicing. Scott Kinkel, proprietor, is an incredibly helpful guy and and I am a

very

satisfied customer.




Antique Electronics Supply in the US are one of two places you can get a replacement cap can. I was pleased to get mine from them when I did the cap job in Sep 2010. Go there, and then capacitors / multi-section / FP type, and scroll down to find their 80/40/30/20 microFarad cap can, which is a direct replacement for the original, right down to the way the 4 connections are labelled. You can also get one from Frag' Jan Zuerst in Germany and Tube Amp Doctor.


Voc Rock sell current-production valves (tubes) and other accessories. They're in Nottingham, UK, and I recommended them warmly.

Valve Tube Guitar Amps in North Yorkshire, UK are my nearest supplier of, er, valves/tubes for guitar amps. Nice guys, as evidenced by their helpful and informative blog.


-------------------------------------------------


Links I've found helpful; Info


The Gear Page is a range of discussion boards; frequented by helpful and encouraging people, and carefully moderated, so disagreements don't get out of hand.


Likewise, the Telecaster Discussion Page ReIssued - is a range of discussion boards; not just about Telecasters; frequented by helpful and encouraging people, and carefully moderated.


The Fender Discussion Page (FDP) closed at the end of 2019 after 20 years of helpful discussion and friendly advice. I miss it, and take my hat off to Chris Greene for running it all that time.


The Fender Field Guide has (Sep 08) been taken over by www.mojotone.com. It was clearly a labour of love by its originator, Mark of Ampwares. I don't know why it needed to be handed on, but hats off to Mojo for stopping a good thing dying. The navigation was better in the original Ampwares version which has been archived here by another parts firm, The Vintage Sound; on this version there are 'prev' and 'next' links at the bottom of each page which give you a way of going backwards, one amp at a time, to the original Princeton (4 watts!). All the earlier Princetons were developments of each other, but the PRII was a complete redesign. I get the impression that earlier Princetons, with or without reverb, are regarded as classics, but the PRII itself isn't. Indeed, it may never achieve that status because of its more complex circuitry. (All previous Princetons have valve/tube rectifiers, with the resultant 'sag' which many guitarists seek, and they don't have a switchable gain-stage.)

Harmony Central has reviews by PRII owners. Some useful tips, but read carefully as some owners make some factual errors concerning the amp, and one of the reviews on its PRII page is actually for the closely-related DRII.


http://www.duncanamps.com/technical/lvbias.html

Lord Valve explains valve (tube) biasing in general. Clear as crystal. All hail Lord Valve.

http://www.geofex.com/ for general stuff about valve (tube) tube amps; faq; a useful valve amp debugging page.

Some folks play around with the component values associated with the tone controls (the tone stack) - any revelations you'd like to share? There's this cool free software download called the Duncan Tone Stack Calculator which graphs the frequency response as you play with component values. If you change c1 ( c1 on the diagram within the software, not c1 on the PRII schematic) to 27n (27 nanofarads, 0.027microfarads) you can simulate what happens when you pull the PRII mid boost switch. You lucky people.


-------------------


I know of a few other 'single amp' websites and they are.....


superchamp.dk was a 'single amp' site, nicely designed, full of useful info about the Fender Super Champ - the little brother to the PRII. I hope it comes back online some time. The page has been archived by the Wayback Machine here.


Super Champ owners should also check out Ben Hickmott's thread on this forum.

The Fender Hot Rod Deluxe had its own wonderful website written by Justin Holton. He has (2009) abandoned that excellent site to the public domain. I and a few others are hosting the contents as an archive - I offer it as a zip file here. Better yet, (Dec 2015) web designer Mark Newcomb has built a new website around Justin's original work. Please do not email me with questions about the Hot Rod Deluxe, as I only know that I once tried and failed to fix one.


The

Fender Blues Junior was championed by the late, great Bill Machrone and the related business is being carried on by his family. Also check out his homemade guitar, the Formicaster. Wonderful.

Rob Robinette has built a superb resource for the Fender Deluxe Reverb (AB763) and much more.


---------------------


Try Praying
I became a Christian when I was 19 (i.e. a long time ago) and God has been consistently faithful and good to me. OK, it isn't directly about the PRII... but 100 years from now, the fact that Jesus found me will matter more than which amplifier I used!

http://www.analogman.com/singblues.htm again, isn't about the PRII but it was recommended to me by PRII owner Jason S. in Milwaukee, USA, and it is funny.

Affiliation (or lack of it)
It hardly needs saying, but I am in no way associated with Fender or any of the other esteemed companies mentioned in this website.


Trademarks
All trademarks and copyrights are acknowledged – Fender, their amp model names, their schematics, their advertising copy and photos, Rivera, Celestion, Jensen, Eminence, EV, Velcro, Head and Shoulders, and any others I've missed.

Safety / Damage Disclaimer
Valve (tube) amps develop LETHAL VOLTAGES while running, and store them in charged components EVEN WHILE SWITCHED OFF AND DISCONNECTED FROM THE OUTLET / MAINS SUPPLY. These voltages are MUCH HIGHER than the outlet voltage, and higher than anything you'll find inside a transistorized amp. If this scares you, good. Inside a chassis, don't use your fingers to touch anything which isn't insulated or earthed (grounded). Don't stick more than one hand in at a time, and keep the other hand well away. Use insulated fine-nose pliers to manipulate components. NEVER, ever, work inside a live amp while holding a connected guitar.If you're not sure what you're doing, get local help.

The details in this whole site are believed accurate but you act on them at your own risk. I have to disclaim any responsibility for injury, damage, loss of value or loss of gig due to inoperative equipment. Opinions are those of the contributors. A lot of amp-speak is highly subjective and your opinion of reported 'improvements' may differ.


Cookie and Tracking Policy
I use Statcounter.com which tells me a little about visits to this page. It doesn't tell me personal details about you, but I can see which city you're in, when you visited, for how long, and which web page linked you to get here. Click here for my policy on cookies.



This site is listed on Google because of the splendid free service run by ....