Fender Princeton Reverb II
Magazine review
PRII home
update Feb 08; 1980s UK magazine review

You will note from the article below that the PRII was designed by Ed Jahns. Sadly Mr.Jahns died in December 2002. I have tried to find out more about him in order to mount a little tribute on this page. Some guys who are building an excellent web page on the Fender 400PS are also hoping to do this. (This was a monster bass stack also designed by Ed Jahns - that number 400 wasn't picked at random!) I understand that Mr.J was previously an aerospace engineer, and that he had occasional run-ins with the CBS finance guys about the specs of 'his' transformers - ie, they wanted them cheaper and he wouldn't compromise on building in safety margins. So here's to you, Mr.Jahns; we can see what he looked like on http://www.timeelect.com/400-histy.htm which is part of the 400PS site. Thank you, gentlemen.There is also a photo of him with Fender engineering legend Freddy Tavares in the book Fender Amps; the First Fifty Years by Teagle and Sprung, page 21.

I am indebted to Steve Bussey, who also gets a name-check in the article below. March 09: I have just learned that Steve himself passed away in winter 2006. He must have been around 50 years old and I offer my very belated sympathy to those who were close to him. If you knew Steve and this is the first you'd heard of it, I apologise for being the bearer of bad news. Steve sounded like quite a character and he was kind enough to email me the following;
"I worked with Ed Jahns at Fender from 1978 - 1981. He was an extremely smart man, I learned a lot from him. Friendly and helpful, he was always ready to offer a suggestion on how to measure an electric parameter, modify a circuit, or a way to make something stronger. He taught me a lot about thermocouples and measuring the temperature of the high power amplifiers I was designing at that time. The tube manufacturers learned a lot from Ed too, He had them make numerous design changes to improve tube performance and reliability.
Most of the rest of us in Research & Development wore rock and roll T shirts to work, Ed always had on a tie and a white shirt. He went home at noon every day for lunch with his wife Buealah and to watch Kung Fu re-runs at that time. He liked the philosophical lessons of Grasshopper.
Ed was extremely patriotic and nationalistic, and did not like Japanese imports of any kind, nor the practice of having some Fender products assembled in Mexico. He gave me a "Glorious Hero Award" for convincing a Japanese electronics salesman to buy me lunch, without any commitment to buy his product!
I was in my mid twenties at that time, Ed was over 70, but sharp as a tack, and in great physical shape".
Mr Bussey's last paragraph suggests that Ed died aged around 90. If you pray, please stop now and say one for his family.
"He was a really great engineer."- Paul Rivera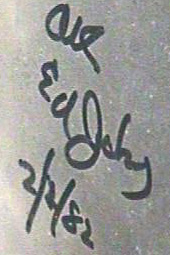 March 09 - It was good to hear from Rick Vogel, who sent me the following - thanks Rick!
"I also worked at Fender (in same R&D dept...) I was there while Ed designed his 1st 400 amp. with 6550s. I also knew George Fullerton (who was still alive last I heard) and well as Dick Evans, well. Also Leo Fender whom I only saw briefly now and then.
"I had wondered what happened to Ed; he must have been in his late 50s/early 60s even then. He and I used to talk; I was only a punk kid learning to be an engineer back then. Ed had years at Pilot and Philco (maybe Packard Bell?) radio designing their old tube console radios.
"I saw that you had Steve Bussey's note about when he worked with Ed; that would have been just after my time, but I can tell you stories about Ed like when he shook our entire R&D lab when he got his 1st 400 watt amp prototype (400 watts was a lie at 1st, that is till the factory got their hands on it; prototype put out more than that in prototype) going. He played Beatles Abbey Road full blast; before that all was calm like any other day, then the music comes on and gets louder and louder till things are actually vibrating on my desk. We all wandered out from our rooms walking towards the "sound" till we found Ed in his lab with 5 or 6 dual 12" Fender speaker cabinets all in a circle. They were all aimed to a focal point in the center where Ed was standing. He already had a hearing loss before I met him. I'd have to speak loudly to him for him to hear me most times.
He could tell me stories that I just loved till we'd have to (kind of) get back to work earning our pay. R&D was very laid back."
Thanks Rick.
I am also indebted to

Laurence Juber

who contacted me (March 09) to say that Paul Rivera called him in to listen to prototypes of the range in fall of 1981. Laurence still uses his own Princeton Reverb II which he bought new in 1982.


Now here's the article as promised....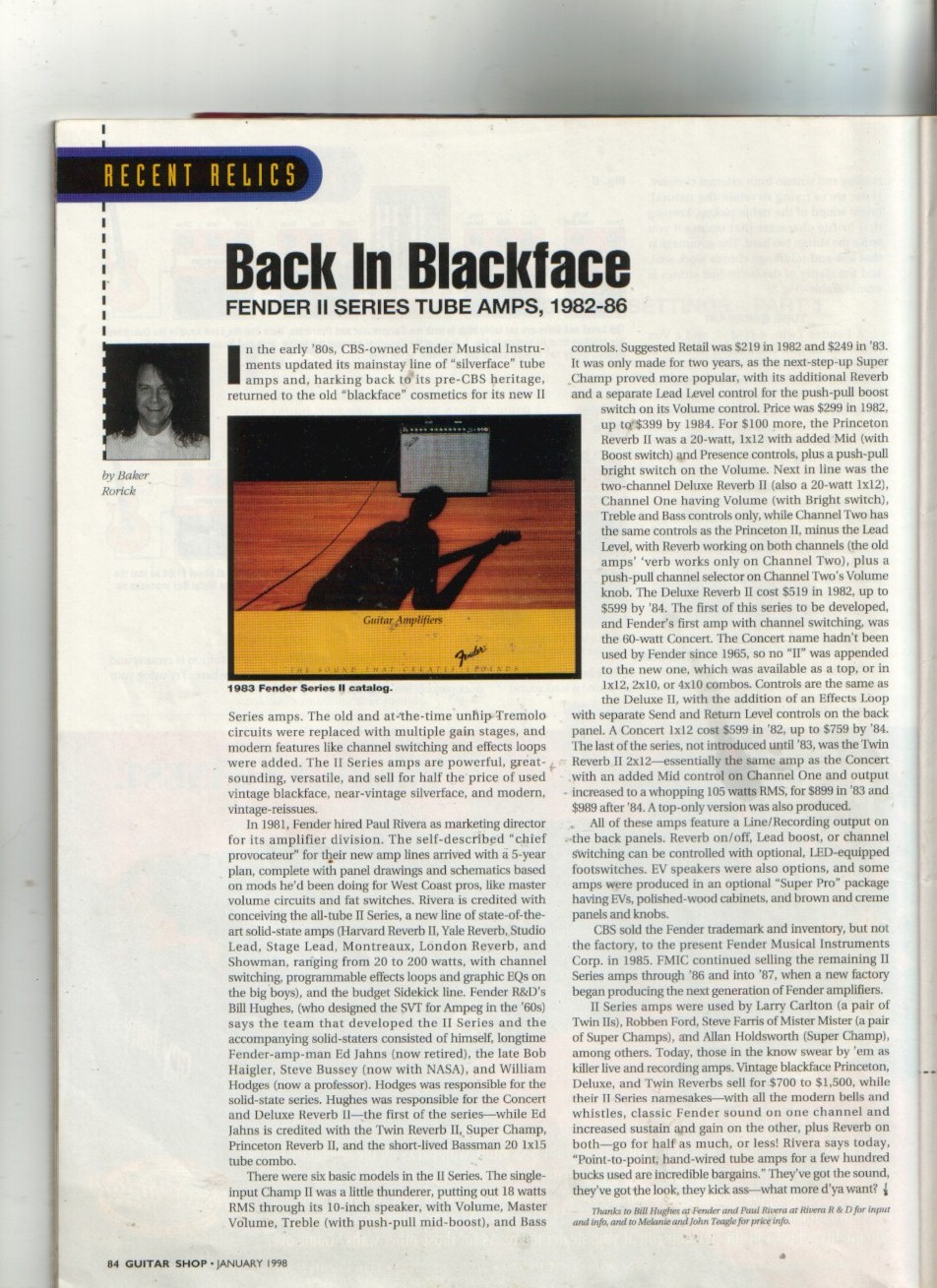 New Feb 08! I am now also highly indebted to UK guitarist Gordon Trunkfield. Gordon gigs in the Manchester area, sometimes with the mysteriously-titled Gordon Trunkfield Band, and has a Deluxe Reverb II (kind-of the 2-channel version of the PRII). He's sent me a scan of this 1980s UK magazine review....:

Princeton Reverb II; Guitarist Magazine, Sep '84

On my other 'site I have added the other '80's reviews Gordon sent me - Reviews of the Stage Lead , an interview with John Hill of Fender UK, Twin Reverb II, Concert "II", Champ II and Deluxe Reverb II. Big thanks to Gordon Trunkfield....