Fender Princeton Reverb II

Photo Gallery - Modified Amps
last update July 2012

You probably know what a PRII looks like. So do I. If you're thinking about sending me a photo of yours,
I'll only put it here if there's something special about it.

July 2012 - In Your White Room...FOR SALE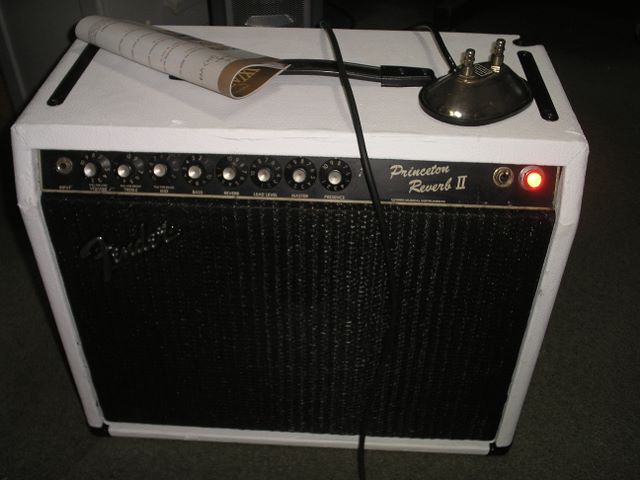 This amp, neatly painted white with a black/sparkle grille, is owned by Gary in North Carolina, USA, and he's selling it as of mid-July 2012. If you're interested, email me and I will send your email address to him.

July 2012 - Gentlemen, Strat Your Engines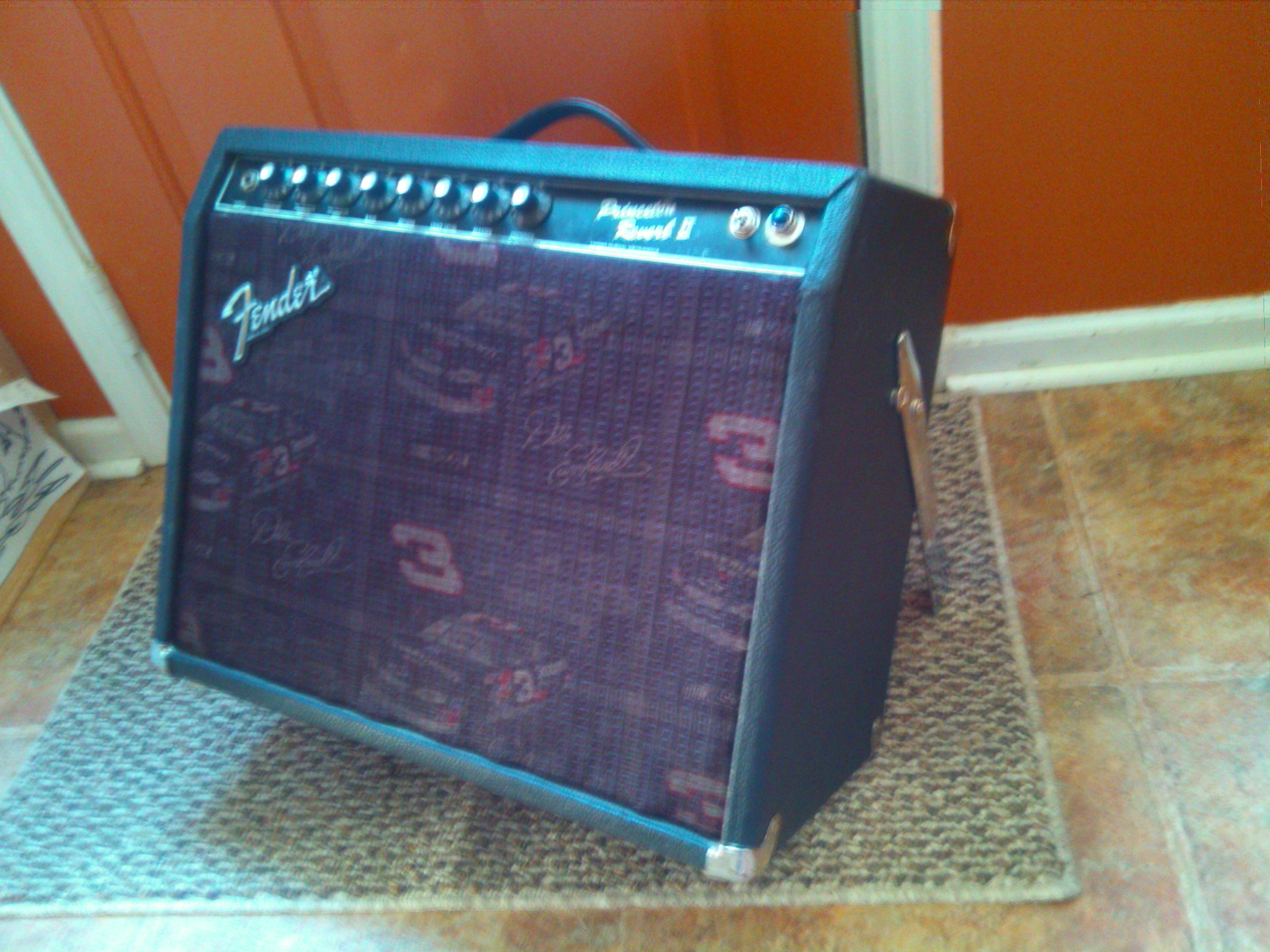 (I don't know if Brian plays a Strat. I just couldn't resist the pun.)
This one belongs to Brian S of south-west Tennessee. He calls it 'the Intimidator'... note the cool blue pilot light jewel and tilt-back legs.

April 2012 - That transparent Fender sound

Here's a transparent-top PRII, one of two which were made for NAMM 1982 or 1983. I assume these were eventually re-made into normal amps and sold, but maybe someone out there knows different....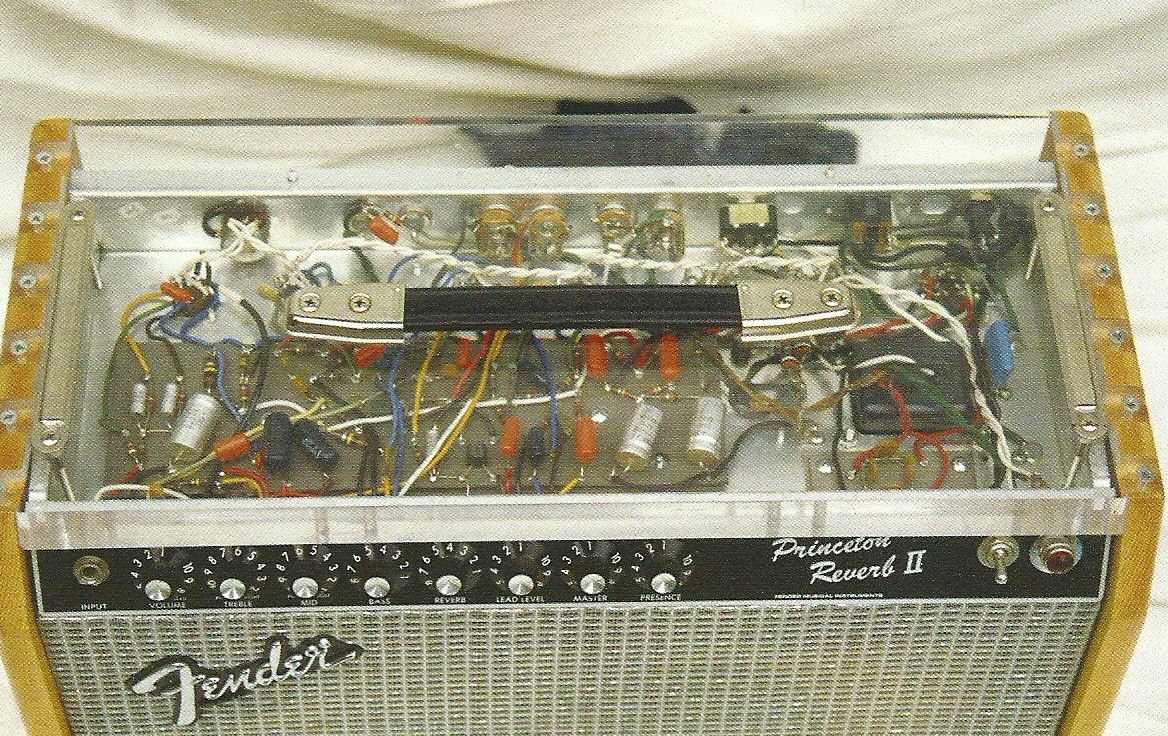 I scanned this off my copy of The Soul of Tone; Celebrating 60 Years of Fender Amps by Tom Wheeler, Milwaukee: Hal Leonard, 2007, p.332.
This is a fabulous book and you should buy one. No copyright infringement is intended and I'll take this down immediately on request from the relevant people.


Feb 2012 - Someone feels the need for tweed...

I am indebted to Brad of Arizona, USA for these photos of his PRII. It's from the first production run back in Spring 1982. He's had it since 1994, by which time it had been given a 10" JBL speaker, shortened in stature, had some cabinet depth shaved off too, and then tweedified. Since then it's also had some mods inspired by John McIntyre's Prince o'Wails (those mods not really intended for a PRII but for a Princeton.... don't ask me for more details... Google is your friend) Cool little amp, no? I bet it makes a fabulous grab'n'go amp... Brad tells me the reduced cab depth adds to the tighter responsiveness, though of course the 10" speaker will be another factor. Also... just in case anyone's thinking this is how to get the 1950s tweed sound... no, it isn't.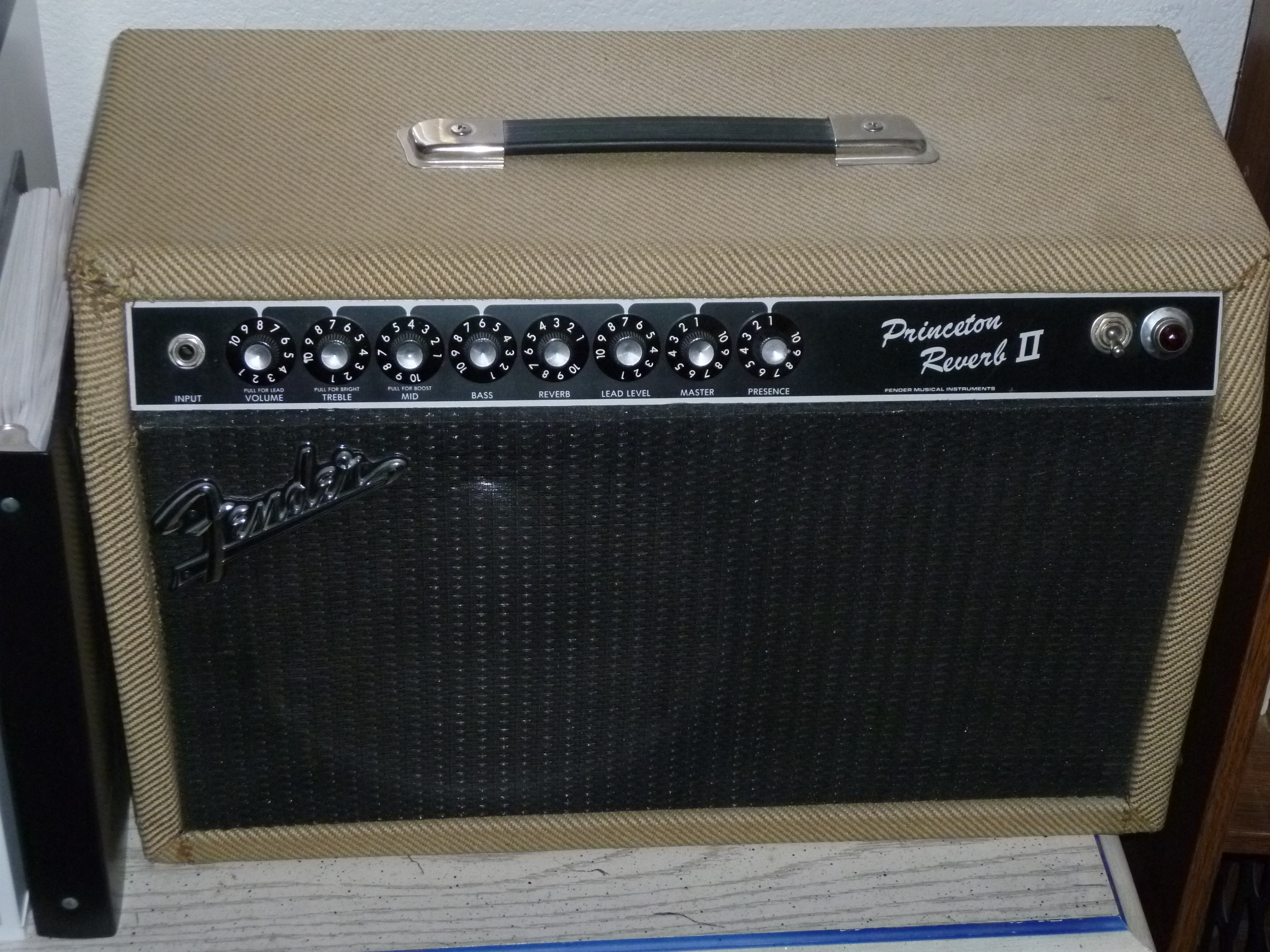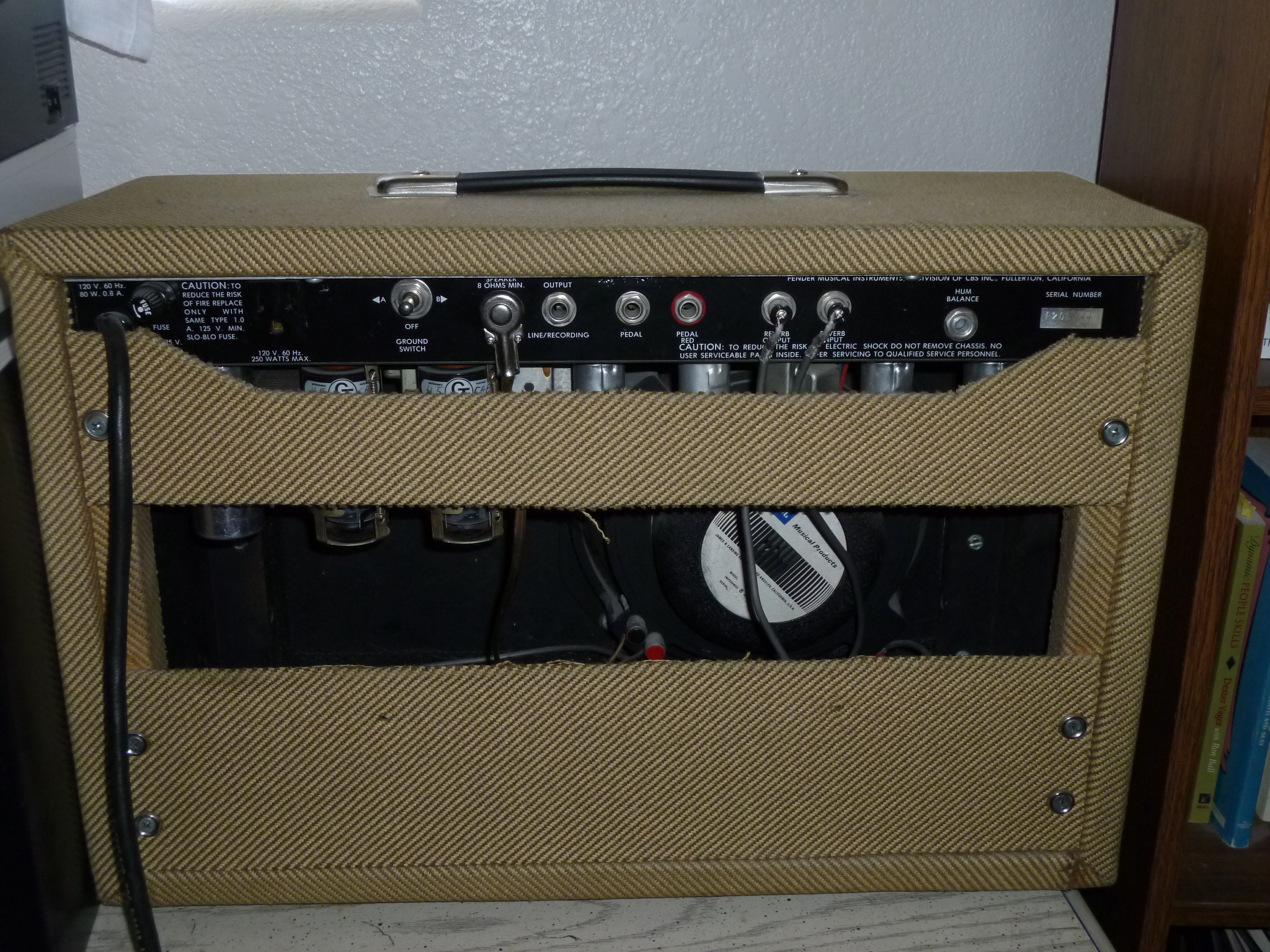 Nice neat re-covering job, eh? Note the re-shaped top edge of the upper rear panel... made necessary by the loss of cab height. Photo courtesy of Brad.

November 2011 - Surf's up!

Ed R of Colorado, USA has kindly sent these photos of his PRII done out in Surf Green tolex complete with white drum-style knobs and a green pilot light. It's a matter of taste but I think this is the coolest cosmetic re-think I've seen so far on a PRII. Many thanks, Ed.... careful how you load it into that Little Deuce Coupe...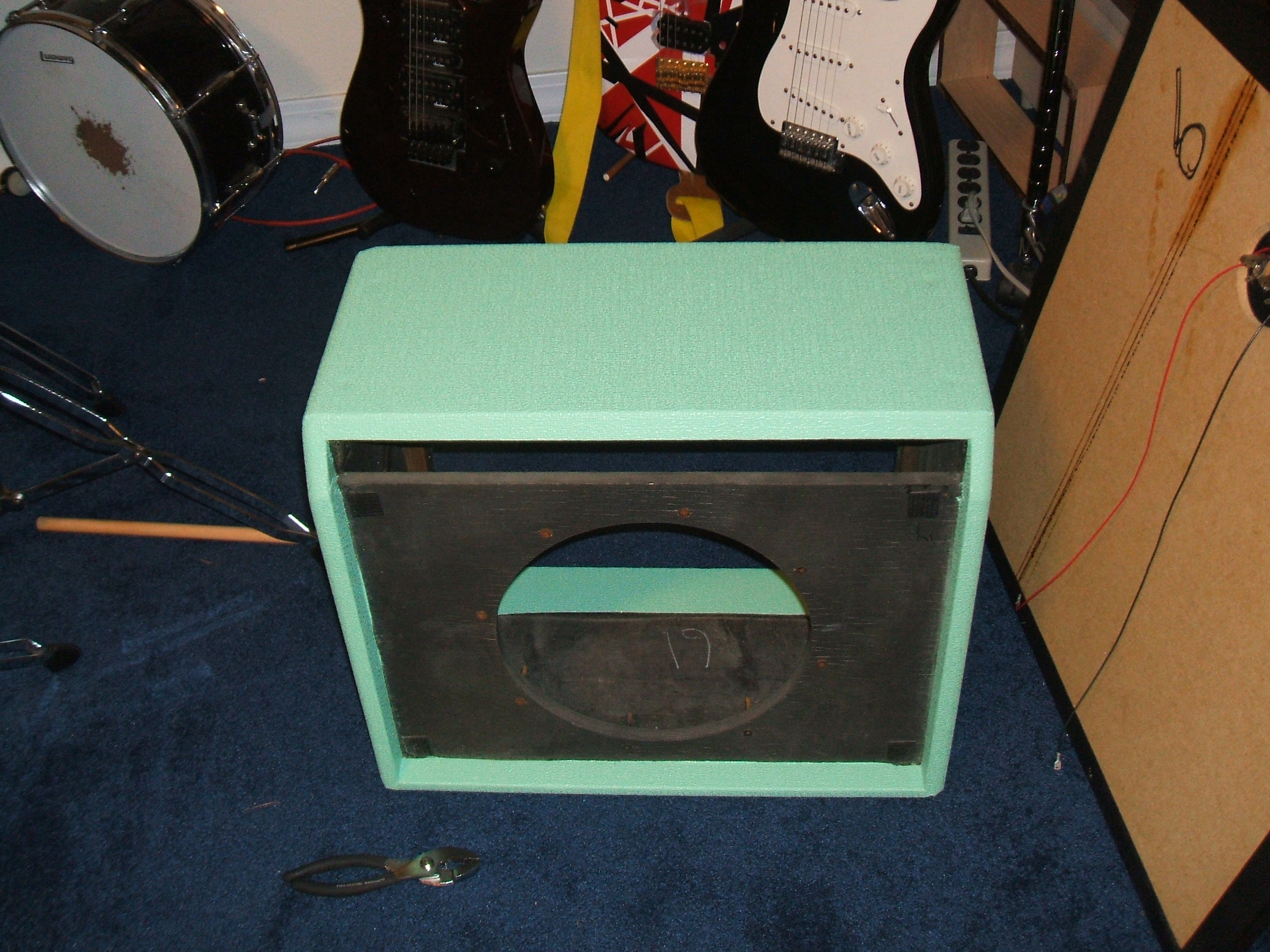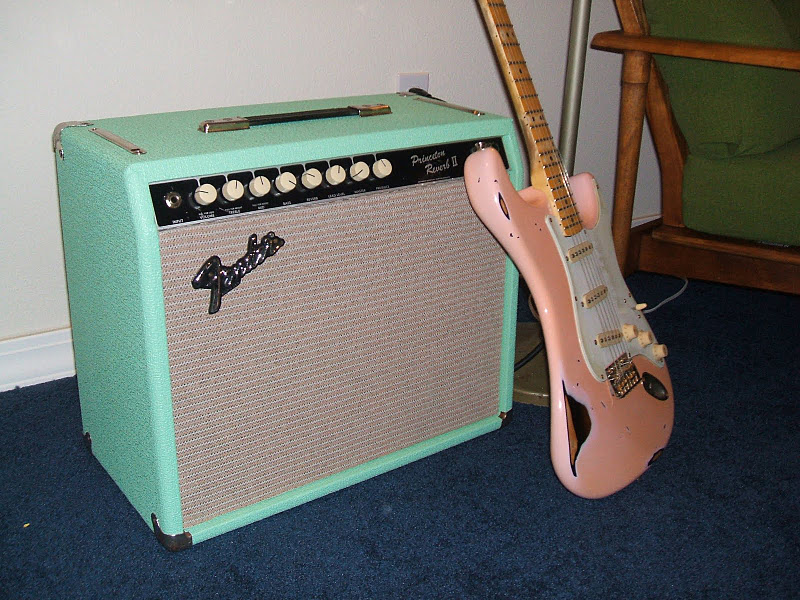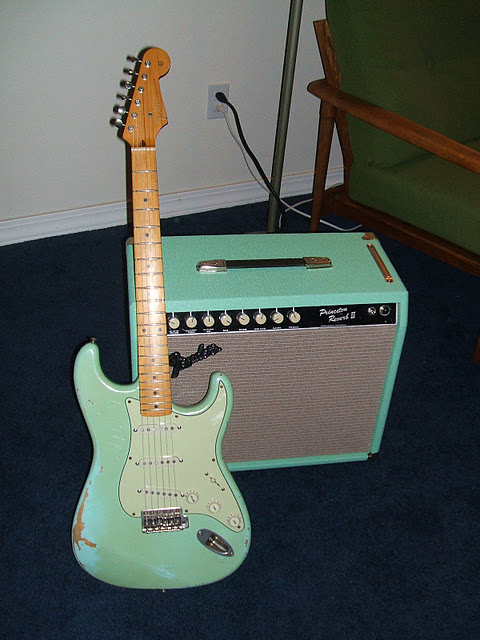 above 3 photos kind permission of Ed R


--------------------------

July 06... woo hoo! look at this!

Mike (aka tweed addict)
in Geogia, USA, has just bought this beauty... it seems he's already had approaches from people wanting to buy it from him...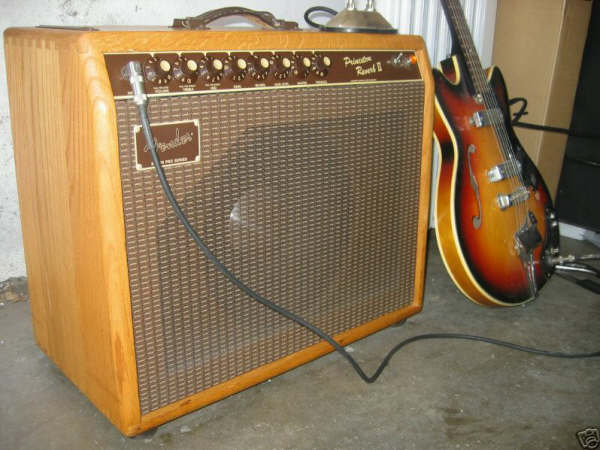 I've been runnng the website for nearly 4 years, but until Mike emailed me I had no idea these amps existed. It's a limited edition "Super Pro" PRII from the Fender factory. (Super Pro? come on, no-one was ever going to take one of these on the road, surely...) It seems they made 100 Super Champs, 100 PRIIs and 100 Concerts like this (and they made them without permission from the bosses... Paul Rivera pushed the idea through, got the cabs and from badges made up out-of-house...) Looks like it included an EV speaker (aluminium centre dome). The serial number (F338xxx) puts it in early 1984 (same time as the woodie Super Champs). Here are 2 more pics... good grief, he's even got the original footswitch...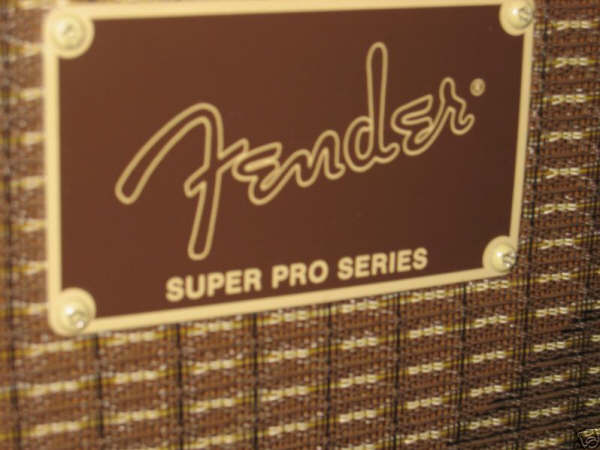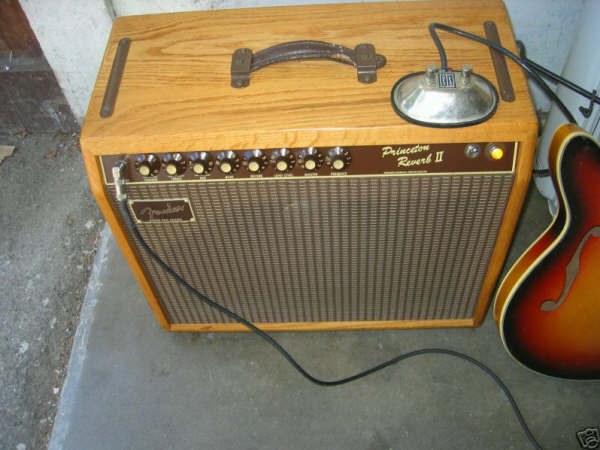 ------------------------------------------------------

This next one belongs to Dave P. It doesn't look very special from this angle, expecially compared with Viviens's pristine example on the other gallery page. However....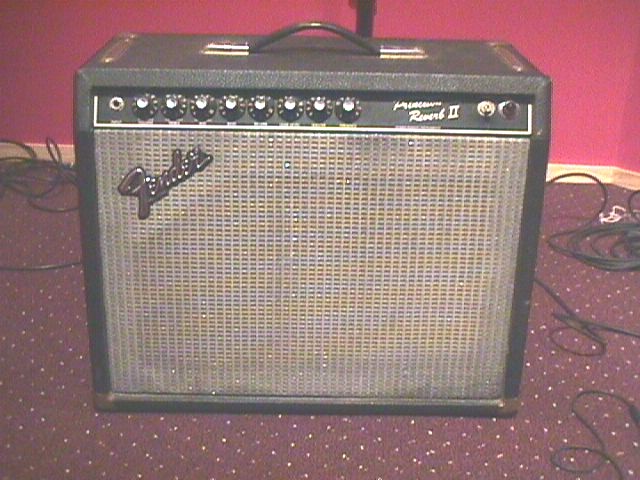 photo by Dave P


....it's got a F1xxxxx serial number with the word 'sample' written over it......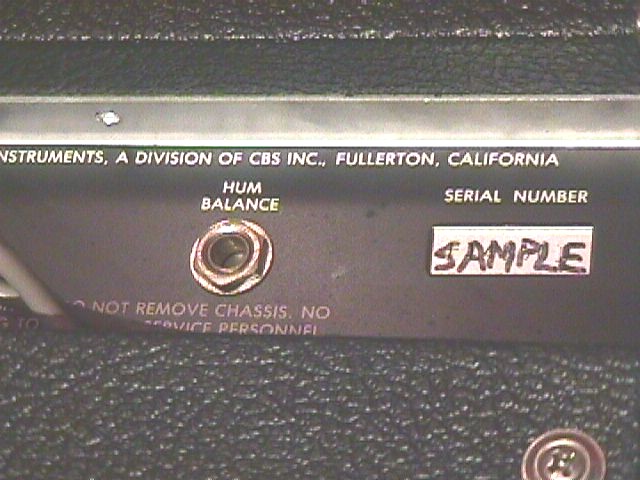 photo by Dave P


.... and transformer date codes dating from late 1981, and a little signature inside ...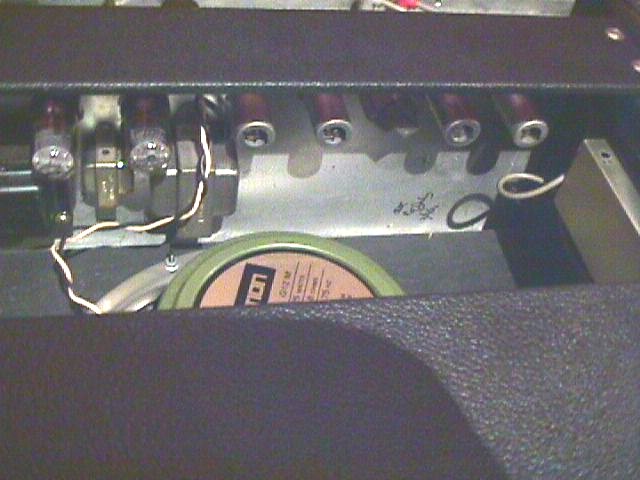 which on closer inspection reads "OK Ed Jahns 2/2/82"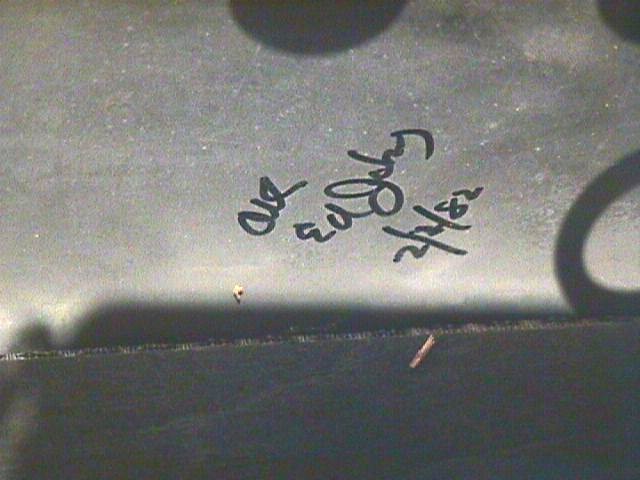 photo by Dave P
...so it dates from before the PRII went on sale, and it's signed off by the designer. Even with the non-original speaker (the Greenback fitted probably sounds better anyway) it's got to have a special place as the oldest known PRII on the planet. Special, no? Big thanks to Dave P for getting in touch, telling all, and taking picures.
More about Ed Jahns on the magazine page.
-------------------
Feb 05... below - here's a French PRII - recent photos from a longterm correspondent, Francois B. It was Francois' idea to start a list of owners and serial numbers. As you can see, Francois' speaker, or indeed le haut-parleur de Francois, is a Celestion G12.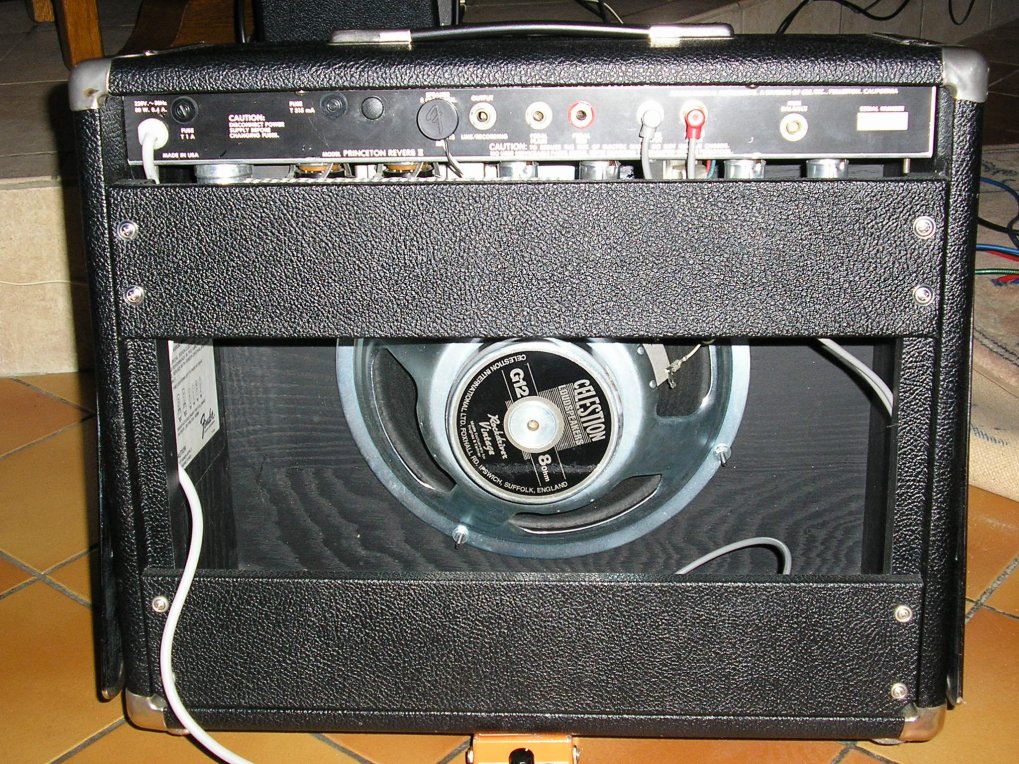 ...but here are the pieces de resistance... he's fitted tilt-back legs AND a blue lens on the pilot light! How cool is that? Note also the added standby switch.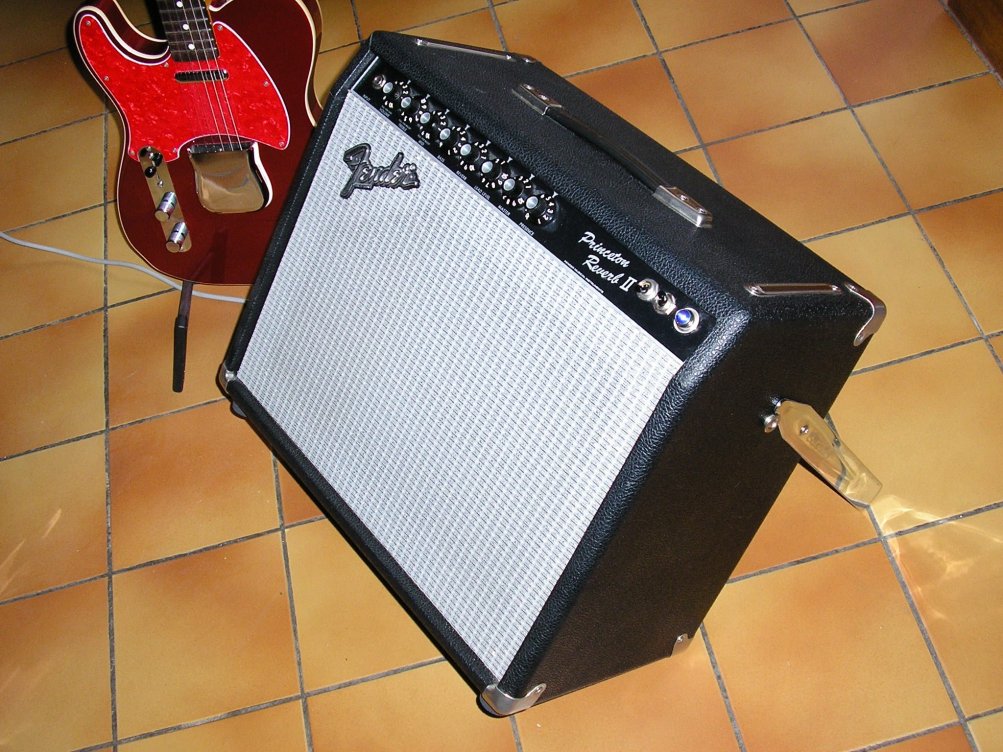 ... and what a clean-looking amp. Nice one, Francois - judging by that classy-looking Telecaster, looks like he's left-handed. A sign of intelligence. Ask any left-hander.


Do you know, I was describing this page to my wife this morning, and she hinted that not everyone would find this interesting.

-------------------------------------

Rub Your Eyes in Disbelief!

April 2006; Big thanks to John Hargnett... his PRII had some cosmetic surgery performed by its previous owner... John calls it a Princetovox...! I can't decide; is it very, very wrong? Or is it rather attractive? It's certainly well done...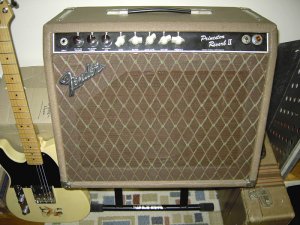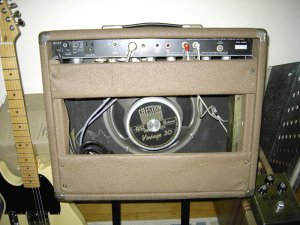 -------------------------------------------------------------------------

Bright Ideas Dept.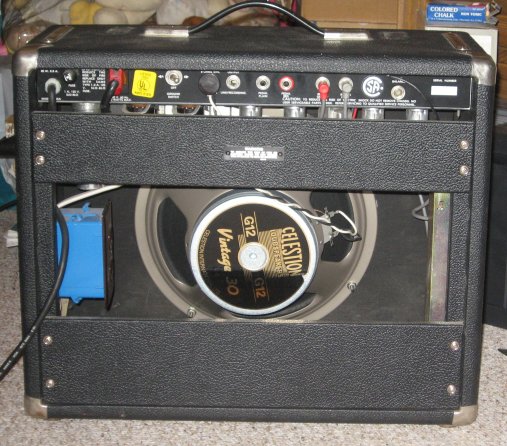 This amp belongs to Mark C. This amp originally belonged to his GRANDfather. Now that DOES make me feel old. Note the extra power outlets installed in the back! Mark plays guitar and sax and you can see him demontrating the PRII's overdrive effect on
http://es.youtube.com/watch?v=rXwHwuZKlcI
May 09 - Mark likes the PRII so much, he bought another one. The latest one has a Celestion Greenback speaker, which Mark says really doesn't sound much different to the Vintage 30 shown above, execept the Greenback has a little more high end.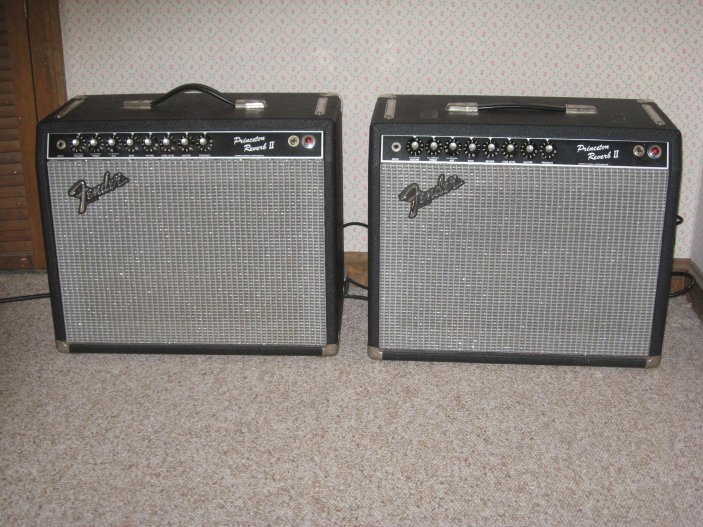 (is that equivalent to four PR one's?)